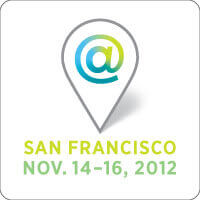 We are so excited that Greenbuild is here in San Francisco at the Moscone Center from Nov. 14-16, 2012. Greenbuild is the world's largest conference and expo committed to green building. It's going to be an amazing show!
Greenbuild brings together like-minded individuals and companies taking a step in the right direction to spread the word about sustainable building. Those participating
leave with newfound vigor and inspiration from the multitude of innovative concepts presented- armed with new information about the latest in sustainable construction!
Nimlok proudly practices green sustainable building as well. Nimlok actually received the first ISO 14001:2004 green certification in the trade show industry, which commemorates a high level of commitment to the environment. Nimlok's custom exhibit systems create an incredible green alternative to conventional construction. Nimlok maintains strong dedication to creating top of the line products that reduce harm to the environment, and hopes that their good example will have an even bigger effect and spread throughout the industry.
This year Arena Exhibits built and executed Teknions 20 x 20 booth. Teknion is a leading international designer, manufacturer and marketer of mid to high-end office systems and related furniture products. The booth is located in the North Building, booth 4347N… Don't forget to check it out!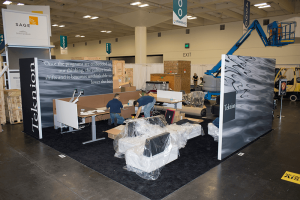 (Taken yesterday during booth set up)